Those involved in the real estate sector, as well as the local authorities of Larnaka, characterize as unprecedented the demand for real estate shown in recent months, mainly by foreigners. This is mainly attributable to the very strong growth prospects opened up after the removal of oil companies and to the large investments planned. The consequence, however, is the constant increase in prices, with some areas now considered out of reach for locals.
"Especially in the last six months, demand has risen sharply for all types of properties. Larnaca has never been in such demand before. We are talking about an increase in demand of about 200% compared to the previous period," Vassos Zakos, real estate agent, director of fox's office in Larnaca, told F.
The greatest interest comes from Israelis, who choose Larnaka because of its prospects and proximity to the airport. However, there is increased demand from both Lebanese and residents of European countries. "The large investments in the marina and the port, as well as in the area of the former refineries, played a big role since everyone sees that the next hot spot in Cyprus is Larnaka."
Recently, however, properties for rent have become much scarcer, and some areas have only a few of them.
"We have a problem with the availability of properties for rent.
Resales of second-hand apartments have sold less, while buyers have snapped up almost all new ones from the plans.
Meanwhile, prices in some areas, Zakos noted, have started to approach those in Nicosia, but remain well below those in Limassol. A new two-bedroom apartment costs about 2,200 euros per square meter in peripheral areas such as Livadia, Oroklini and Aradippou. In the centre of Larnaka, however, prices are rising exponentially. They are over 3,000 euros per sq.m. and are no longer addressed to the Cypriot market. The same happens with residential buildings. Until before the increase in demand and the high prices, Cyprus was also a good market in Larnaca.
Prices and interest rates have increased and affected demand from the Cypriot market, but some people can still buy.
Zakos said that prices will spike to Limassol levels if large foreign companies and their employees settle in Larnaca, when asked about the estimates.
"In Limassol this has driven up prices. In Larnaca there is currently no availability of large office space. We have many requests from large companies abroad, but in the end they do not come to Larnaca, firstly because there are no large offices and secondly because there are no properties available for rent for their employees to live in."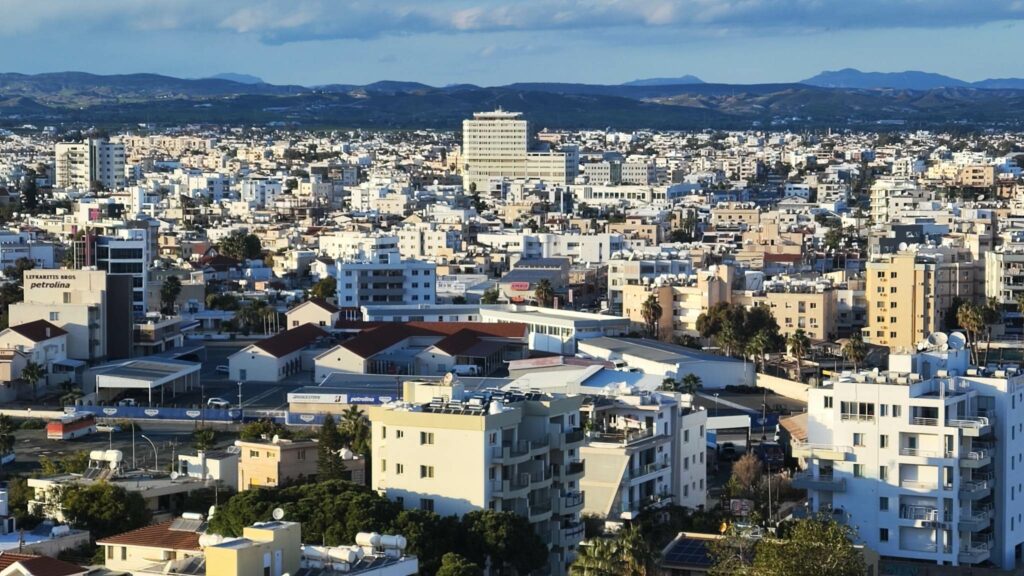 The areas with the highest demand
Real estate demand skyrocketed in Oroklini, Livadia, Pyla, Aradippou, Kiti and Pervolia, apart from the almost saturated city of Larnaka.
The two areas will become municipal districts of Larnaka Municipality in a year.
The Seveso directive ended last May and lifted the same restrictions from Oroklini as from Larnaca and Livadia. Demand for real estate in Oroklini has been at an all-time high since last year.
"Last year and this year the demand is unprecedented," said community president Neophytos Fakontis. He indicated that both Cypriots and foreigners show interest.
"Russians, Israelis and Lebanese want to stay and invest in Oroklini, but we also have a lot of Cypriots. We are a community that is constantly growing and now has over 11,000 residents."
He also said that they are currently building complexes with dozens of apartments, apartment buildings and many residences.
People constantly submit applications for planning permits and divide plots within the community.
Currently there may be only 4-5 apartments available for rent in Oroklini. Also, there is tremendous demand in the tourist area for the purchase of land for the construction of large villas. Many people ask for shops to rent but unfortunately there are none."
Demand is also at unprecedented levels in Livadia. The land released after the removal of Seveso gives it even greater prospects for residential development.
Lately, in fact, in some areas of the municipality, apartment buildings are springing up like mushrooms. According to Mayor Marios Armenis, some Cypriot land developers are now active exclusively in the area.
Many people also want to live in the mixed community of Pyla, despite its peculiar status that deterred them until recently. Very large investments are planned on its coastal front.
Community President Simos Mitides said the area is mainly chosen by Cypriots. "Prices in Pyla have been higher in recent years than both Oroklini and Livadia, because there is a lot of demand that has increased recently."
The case of Aradippou
Of great interest is the case of Aradippou, the demand in which increases year by year, due to its free land and its proximity to the motorway, the airport and the city of Larnaka.
Mayor Evangelos Evangelides talked about the growth rate of Aradippou. He said it is the second largest in Cyprus after Limassol, because the municipality has a large area, which is one of the largest in Cyprus.
"As a municipality we receive about 500 applications for new homes every year in our region. Young people who want to build houses prefer our municipality, because in Larnaka there is no available land and in Aradippou there are all the infrastructure and many schools. But we still have a big advantage. We are against tall buildings and we have up to four-storey apartment buildings, which are close to the highway."
INTERVENTION
They are looking for an antidote to rising prices
Investments and residential development in Larnaca are satisfying, but price increases, especially in the city centre, are concerning. The municipality is moving towards providing incentives to land developers to build houses and apartment buildings for the middle and lower strata.
The Mayor of Larnaka, Andreas Vyras, spoke to our newspaper about this development. He said it must go along with measures for Larnaka's benefit, so that people can access affordable housing.
He said that the municipality is working out various scenarios to make properties available at affordable prices.
Source: Chaos for a property in Larnaca | Liberal | Philenews